Cross-chain, play-to-earn game built on a strong DeFi protocol -$JEWEL
Project Aspects and Comments:
DeFi KingDoms has a mature ecological economic system, has developed its own main chain, and the team is also working very hard. The introduction of the DeFi concept in the game is an attempt in the Web3 field
Project Introduction:
Official introduction:DeFi Kingdoms is a cross-chain, play-to-earn game built on a strong DeFi protocol with plans to become a fully-fledged MMORPG in later phases of the Roadmap. The game features DEXs, liquidity pool opportunities, and a market of rare, utility-driven NFTs, which all together create a beautiful, immersive online world in the incredibly nostalgic form of fantasy pixel art. DeFi Kingdoms currently lives on the Harmony and DFK Chain blockchains.
With recent changes to the DeFi Kingdoms tokenomics, JEWEL is now the Ecosystem token that is used across realms. In addition to being the native gas token on DFK Chain, JEWEL is used for in-game Power-Ups, fee distribution opportunities, liquidity pooling, and governance rights.
WebSite:https://defikingdoms.com/
Twitter:https://twitter.com/DefiKingdoms
Telegram:https://t.me/defikingdoms
Project details:
Total liquidity: $539.26K
Pooled UST: 1.76M
Pooled JEWEL: 1.13M
Market Cap: $1.45B
Total Supply: 396.16M JEWEL
Pool created: 8/25/2021 13:43
% Pooled JEWEL: 0.2873%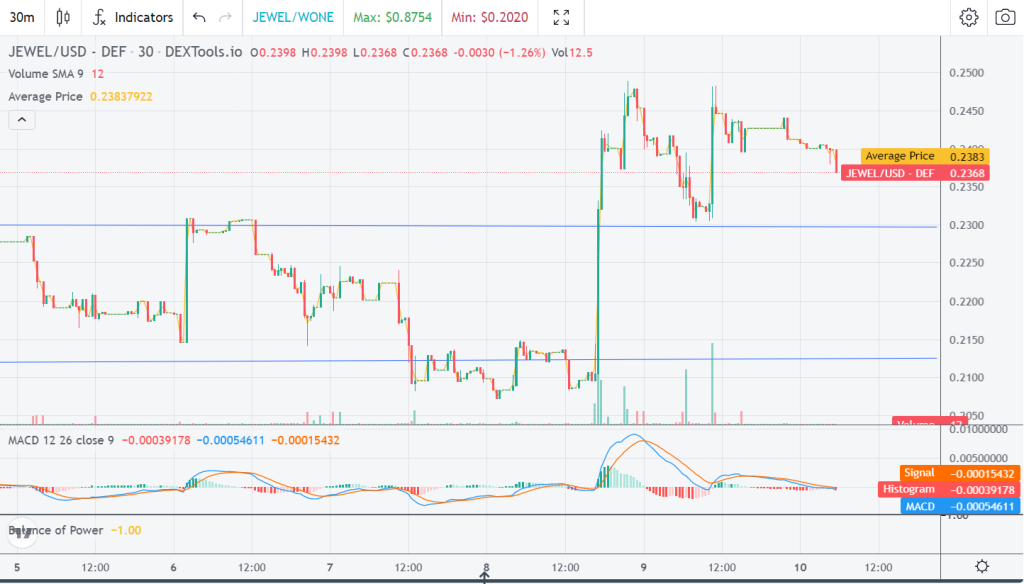 Project Aspects and Comments:DeFi KingDoms has a mature…